The Renovation of Llanallgo's Bell
Llanallgo's bell is unique to the Diocese and to the Province. It is one of, if not the oldest in the Principality. It is dated to the late 13th century. It is of interest on two counts - it bears the inscription +AVE MARIA GRACIA PLENA and the imprint of the reverse of a penny of Edward I of the Durham mint. This penny was probably struck in 1281. It is exceptional to find an impression of a coin at so early a date and the other examples in the UK date from the 15th century. The bell is recorded in Anglesey, Royal Commission on Ancient Monuments p.cxxvii and plates 56 and 57.
In 2000 the bell lost its clapper and so the opportunity was taken to remove the bell for repair and renovation. The cost of £3000 was met almost entirely by grants from the Isle of Anglesey Charitable Trust, the Council for the Care of Ancient Churches and the Diocesan Trust (W.G. Roberts Trust). The renovation, repair and rehanging was carried out by Eayre and Smith of Derby while the initial removal of the bell was carried out by Thomas Brothers of Moelfre.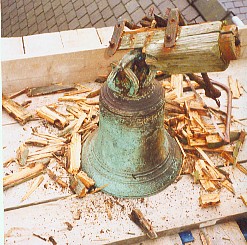 • the bell with the old headstock partially cut away soon after the bell was removed from the bell cote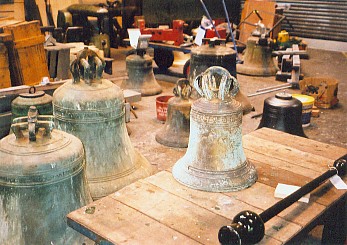 • our bell (on the trolley) in good company in the Eayre and Smith Works at Melbourne, Derby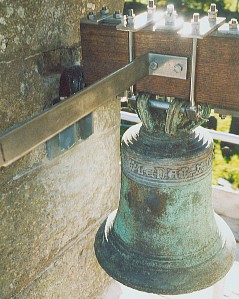 • the bell rehung in the bell cote with its new oak headstock, stainless steel chiming bar and galvanised steel straps and centre bolt